Information on October Events
On October 21 to 23 (Friday to Sunday), there will be special exhibits at this year's Okinawa Industry Festival (Sangyo Matsuri) featuring a "Marine Industry Special Exhibit" at the Okinawa Budokan (Arena) near Onoyama Park. For details see the website linked above.
On October 28 (Friday) from 2pm to 5:30 as part of the Uchinanchu Reunion Event there will be an International Environmental Energy Symposium at the Urasoe Industrial Promotion Center. For more information click the picture below for a pdf. Power company executives, businesses, and officials from Hawaii and Okinawa will be attending.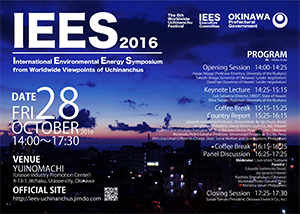 Finally, we look forward to welcoming participants from the above Symposium to an optional tour to Kume Island to see the Okinawa OTEC facility and related deep seawater industries.